"You will find the music
more beautiful than kiss."
What is

Uta no☆Prince-sama♪

?
Uta no☆Prince-sama♪ (うたの☆プリンスさまっ♪, also shortened as うたプリ, Utapri ) is originally a dating sim game, released in 2010 by Broccoli.
Haruka Nanami, a shy young girl, is a talented and aspiring composer who wishes to create music able to move people's hearts.

As she enrolls into the elite idol school Saotome Academy in order to fulfill her dreams, she makes many encounters, and will have to choose one of the many aspiring idols who surround her to create the perfect duo...
Due to the success of the original game, a remake called Repeat was made with enhanced artwork, storyline, and game system.
Uta no☆Prince-sama♪ has since then expanded into an enormous franchise targeted towards women, including several game sequels and remakes, a successful anime adaptation in four seasons, an official manga and several anthologies, drama CD series, as well as various fashion collaborations and special anime events and lives featuring the voice actors.
With catchy songs and a talented voice cast featuring the biggest names of the Japanese voice acting industry, you will for sure find a prince who suits your tastes!
How does Uta no☆Prince-sama♪ Shining Live fit in?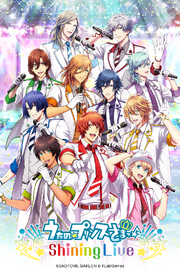 Uta no☆Prince-sama♪ Shining Live
doesn't have a constructed linear plot, like its otome game predecessors.
It is mainly centered around the numerous songs of the franchise in the form of a rhythm game, with additional various character stories and other features to unlock through the gameplay.
It features the two main idol groups of the franchise, ST☆RISH (seven members) and QUARTET NIGHT (four members). In addition, the original female protagonist, Haruka Nanami, isn't present, nor any of the other characters.
Rather than being plot-driven, Shining Live offers the possibility to interact directly with the idols in your everyday life. In this sense, it can be played without prior knowledge of the franchise for newcomers, or on the contrary, give a new and fresh approach for long-term fans.
Other media of the franchise
If you are new to the Uta no☆Prince-sama♪ franchise, you may wish to discover other related media!
Games
All games are in Japanese, except for Shining Live which will have an English release. Up to this day, no patches for the visual novels, whether they're official or not, have been released.
Anime
| Title & Website Link | Airing date | Description |
| --- | --- | --- |
| | 03.07.2011 | First season of the anime. |
| | 03.04.2013 | Second season of the anime, which introduces the groups QUARTET NIGHT, as well as anime-exclusive HE★VENS. Includes an unaired Christmas episode, included in the seventh Blu-ray and DVD volumes. |
| | 04.04.2015 | Third season of the anime. |
| | 02.10.2016 | Fourth season of the anime and continuation of the third. |
Theater Shows
They are a story-based ensemble, or a drama CD paired with a theme song, featuring the members of ST☆RISH as the members of QUARTET NIGHT in various roles. Each show has a different concept and story.
The CDs are distributed by Broccoli CD.
Shining Theatrical Troupe
| Title & Website Link | Release date | Description | |
| --- | --- | --- | --- |
| | 20.12.2013 | Masquerade Mirage, a masquerade-ball concept story featuring: | |
| | 22.12.2013 | Tenka Muteki no Shinobi-michi, a ninja concept story featuring: | |
| | 26.02.2014 | JOKER TRAP, a spy concept story featuring: | |
Theater Shining
Shining Masterpiece Show
| Title & Website Link | Release date | Description | |
| --- | --- | --- | --- |
| | 17.01.2018 | LOST ALICE, an Alice in Wonderland-based story featuring: | |
| | 07.02.2018 | TROIS, a Three Musketeers -based story featuring: | |
| | 28.02.2018 | The Forest of Lycoris, a Little Red Riding Hood-based story featuring: | |