KLab is the developer of Uta no☆Prince-sama♪: Shining Live. They are best known for their hit mobile rhythm game Love Live! School Idol Project.
All information was taken from KLab's English Website.
​KLab's Vision
​KLab's Logo
An image viewed from the inside of a mobile device, this unique logo shows three people peeking into a smartphone screen. This logo represents KLab's passion for creating attractive and exciting mobile content so engaging that users are tempted to share their personal devices with everyone around them. The "K" shape is taken from K Laboratory, the name of the company when it was officially established in 2000.
Various factors have continued to fuel the evolution of the mobile industry since the company was founded. Despite such ever-changing trends, the message behind KLab's logo has remained constant. KLab continues to deliver exceptional services to their users and put forth their strongest efforts to give rise to the next groundbreaking game title.
Services
The company's business can be broadly divided into two areas. In the Game Business, KLab focuses on the design and development of games specifically for smartphones. In recent years, KLab has established offices in San Francisco, Shanghai, and Singapore to further drive overseas efforts. The other area of business centers on the design, development, and provision of smartphone-related applications, services, and server infrastructures.
Games Business
This business sector is focused on designing and developing online mobile games.
Other Businesses
This business sector is involved in designing, developing, and providing smartphone-related applications, services, and server infrastructures.
Global Expansion
Business Overseas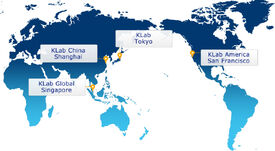 KLab has succeeded in formulating a unique Japanese-style game logic and devising effective strategies for increasing in-app conversion rates for online mobile applications. By creating a framework which takes the local trends of countries and regions around the globe into account, the company has successfully broadened its scope of business on a worldwide scale. Collectively known as the "KLab Group," the company strives to become the world's greatest vendor in the online mobile game industry.
Affiliated Companies in Japan
Success in the Japanese native app market and extensive expertise in domestic SNS platforms are both essential elements for advancing into the global market. Moreover, as much as KLab focuses on strengthening domestic foundations, the company places just as much emphasis on expanding their business on a worldwide level. KLab will continue to foster new business ideas, and through mergers and acquisitions, devise corporate structures that optimize new resources in order to plan and develop future projects.
Links